Lake Allatoona Fishing Report (3-28-12)
Robert Eidson's Lake Allatoona Fishing Guide Report is provided by First Bite Guide Service of Lake Allatoon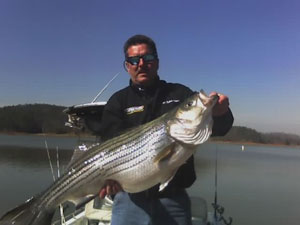 a.
When you're ready to catch stripers and hybrids, contact Robert at 770-827-6282 or by e-mail at [email protected].
Line sides fishing is good.
The Dead Sea is Alive!!!  The fish are starting to school up and are scattered from the south end to the north end of the lake, including the rivers.  The bite up the rivers should be on fire in the next two weeks.
We are also catching good numbers off line-sides on the south end of the lake.   Iron Hill, Clark Creek and around the Islands at Redtop has been really good for me this week.  But your best bet in the upcoming weeks will be up north. Mid-lake fishermen should fish the mouths of the creeks.
Flat-lines and planer boards have been producing numbers, but the down-line bite has been better for big fish.  This is the time of year to pull BIG Baits for BIG stripers, so don't be afraid to use shad as big as 10-12 inches.
Trolling is really starting to improve.  The fish are moving up in the water column and on the flats.  The Mack Farr u-rig is a GREAT way to catch these fish. I look for a great trolling bite come April.
Catch some fish with First Bite Guide Service.  Give us a call at 770-827-6282.