Acworth Art Fest: April 13 & 14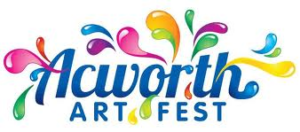 Historic Main Street in Acworth is always fun, but during the Acworth Art Fest it really pops.
For two days, Saturday, April 13th & Sunday, April 14th, downtown Acworth will be splashed by colorful displays of unique artwork from 120 artists visiting from around the country.
Acworth — "The Lake City" — is right up the road and a world away from Atlanta, on the shores of lovely Lake Acworth, a bridge away from Lake Allatoona.
The weather is guaranteed to be perfect ("some restrictions apply") for the Art Fest.
Just imagine!  You can actually get magnificent works of art in exchange for mere money!
Could this be your last chance before these artisans come to their senses and keep their creations all to themselves?
Don't take a chance!  Browse the booths filled with:
paintings
pottery
metalwork
folk art
glass
jewelry
yard art
and much more!
Don't worry about the kids running around breaking priceless treasures.  Let them play at the Kidz Zone, which will be filled with inflatables and fun rides that even you-know-who's wild kids couldn't break … probably.
You won't go hungry either.  Many of Acworth's remarkable eateries will be selling mouth-watering, delectable treats.
The Fine Print
Cost:  Free!
Hours: Saturday, April 13, 10 AM — 6 PM;  Sunday, April 14, 11 AM to 5 PM