Tellus Science Museum's Night at the Museum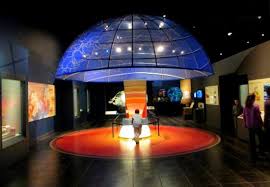 Tellus Science Museum in Cartersville presents Night at the Museum on Saturday, August 10th.
This year's Night at the Museum will be better (and weirder) than ever!  That's the perfect concoction for a fun night with the family.
Won't it be nice to take your family someplace and not have them be the weirdest people there?
More than 30 characters will be wandering the galleries of Tellus educating visitors on how science and science fiction often intersect and influence each other.  From Star Wars to Star Trek, from physics to aviation, all the bases are covered at Night at the Museum.
All children will receive a special autograph book to capture the signatures of everyone from Amelia Earhart to Darth Vader.  You are encouraged to talk to the characters, take photos and, of course, collect autographs.
There's no telling what will pop up (or explode) during their demonstrations.
The Fine Print
Children 12 and under are encouraged to dress up as their favorite science or science fiction character and be part of a special parade at 7 PM.

Please no adult costumes

; let's avoid confusing the crowd.
Night at the Museum runs from 6 – 10 PM.
The Café will be open until 9 PM.
Tickets are $10 for members and $20 for non-members.
Advance tickets are on sale now!
Call (770) 606-5700, extension 431 to purchase your tickets.
But Wait!  There's More!
Four reasons to attend Night at the Museum!
1. New characters – This year's crop of characters has plenty of new faces.
2. The TARDIS – Whovians young and old can get up close to the most famous phone booth in history (past, present and future).  Shake hands with different iterations of the Doctor, some of his companions and a few others from the show.
3. Costume parade for the kids – Kids under 12 are encouraged to dress up as their favorite characters from science and science fiction. All costumed children can be a part of a special parade at 8 PM. Please no adult costumes. We don't want to confuse you with the actors.
4. Parents will have a blast too – Sure, there's plenty for the youngsters. But kids at heart will want to meet a Predator, talk with the crew of Firefly and say hello to famed astronaut Sally Ride.