Water Wars Saga: Florida Fires Anew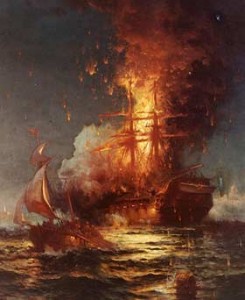 Surprise!  Florida has filed another lawsuit in the Water Wars.  We must admire their perseverance, if not their understanding of recent Supreme Court rulings.
Governor Nathan Deal called this latest skirmish "frivolous."
Here is the governor's press release:
"In the wake of the state of Florida filing a lawsuit against the state of Georgia, the Office of Gov. Nathan Deal reiterated that it will vigorously defend its state's water rights. The state of Georgia has not received official notice of the suit at this time.
"The only 'unmitigated consumption' going on around here is Florida's waste of our tax dollars on a frivolous lawsuit," said Deal's communications director, Brian Robinson. "Florida is receiving historically high water flows at the state line this year, but it needs a bogeyman to blame for its poor management of Apalachicola Bay. Our conservation efforts have decreased metro Atlanta's water use even as our population has grown substantially, and Georgia offered a framework for an agreement which never received a response from Florida. This lawsuit is political theater and nothing more. We've won consistently in court and will defend Georgia's water rights vigorously in the Supreme Court, because our case is the only one with any merit."