Goldline Darters Near Carters Lake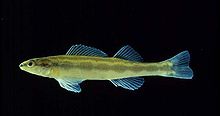 The Coosawattee River system in Georgia — formed where the Ellijay and Cartecay rivers merge in Ellijay — runs through the Appalachian Mountain foothills and is one of only two places where goldline darters survive.
Georgia Department of Natural Resources surveys in the Coosawattee and its tributaries have mined a wealth of aquatic creatures that reaches beyond the federally listed goldline darters.  Those finds include three more protected darter species, plus mussels documented for the first time above Carters Lake.
Dr. Brett Albanese, senior aquatic zoologist with DNR's Nongame Conservation Section, said the discoveries not only expand the range of these rare species, they spur hope "that having more of them present in the basin will help increase conservation efforts" in the Coosawattee River system.
The system drains southwest to Carters Lake and continues below the dam to join the Conasauga River near New Echota, the former Cherokee Nation capital.  One Coosawattee claim to fame is that it helped inspire the bestseller "Deliverance."  Another claim: Goldline darters — slim fish dabbed gold on the sides and classed as threatened under the U.S. Endangered Species Act — exist only here and in Alabama's Cahaba River system.
As part of a project to assess the darters' status, the Nongame Conservation Section began surveying the Coosawattee in 2009. That work, covered in a journal article available from Albanese ([email protected].us), documented a stable population upstream of Carters Lake, but rated the species possibly extirpated in the lower Coosawattee and Talking Rock Creek, a major tributary.
Those data are vital for conserving goldlines.  But surveys provided more, thanks to partners including The Nature Conservancy, Georgia Museum of Natural History and the Coosawattee Watershed Alliance.
Although researchers didn't capture goldline darters downstream of Carters Lake, they did net three other rare darter species: the federally endangered amber darter and state-endangered freckled and trispot darters.  This represents the first documented occurrences of amber and freckled darters in the Coosawattee system and a considerable increase in the global range of the amber darter.
Also, when a survey crew searching for state-listed holiday darters spotted mussel shells in the Ellijay River and Boardtown Creek, biologists followed up this year and quickly found populations of two mussel species never collected upstream of Carters – the federally threatened finelined pocketbook and the state-endangered Alabama creekmussel.  They even found the Etowah heelsplitter, a species of special concern also not documented upstream of the reservoir.
DNR mussel specialist Jason Wisniewski said what interests him even more is the size of the mussels. They're small.  And for these long-lived creatures, smaller means younger.
What researchers saw, Wisniewski said, is evidence of a reproducing population of mussels. "That's what is really important."
It's also not all they saw in the Coosawattee system.
In 2009, three eastern hellbenders were caught in the Cartecay River, the first occurrence of this mega-salamander in the Mobile River basin, which includes the Coosawattee system.  A genetic study suggests ties to hellbenders in the Toccoa River.  What's not known is whether the Cartecay hellbenders dispersed naturally from the Toccoa system or whether people introduced them to the Cartecay.
Joined by Georgia College professor Dr. Chris Skelton, surveyors found Coosawattee and beautiful crayfish, two species that, like eastern hellbenders, are petitioned for federal listing.
According to Albanese, part of the big picture is the need for further research. "All of these discoveries lead to more information needs."
And more emphasis on conserving the system anchored by the Coosawattee, home to more than 70 native fishes. Threats include habitat loss to urbanization and agricultural impacts such as runoff.
Having sound information on species of concern, including how rare they may or may not be, is critical for managing them and deciding whether or not they warrant federal listing.
The key, said Wisniewski, "is doing what's necessary from the conservation standpoint to try and preserve those populations, and document as many as you can so you know where they are."
Along the Coosawattee, that story of deliverance is being written.
SUPPORT GEORGIA WILDLIFE

Conserve aquatic species by buying or renewing an eagle or hummingbird license plate and contributing to the Wildlife Conservation Fund state income tax checkoff. Proceeds help support DNR's Nongame Conservation Section, which receives no state appropriations for its work to conserve native Georgia wildlife, rare plants and natural habitats. Learn more: www.georgiawildlife.com/conservation/support.