Lake Allatoona Fishing Report (3-7-13)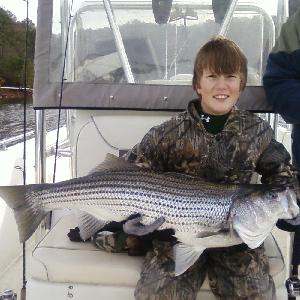 Robert Eidson's Lake Allatoona Fishing Guide Report is provided by First Bite Guide Service of Lake Allatoona.  When you're ready to catch stripers and hybrids, contact Robert at 770-827-6282 or by e-mail: [email protected].
Line – Sides!!!  The bite is getting better and so is the water clarity.
The bite this week has been decent.  The majority of the fish are still in eyesight of the dam, but we are also hearing reports of fish being caught mid-lake and as far north as the flats at the delta.
The fish are in very tight schools and sometimes running very deep for this time of year. This week we have caught a few fish on freelines, but most of our catch is coming on downlines fished anywhere from 20-55 feet deep.
The live-bait bite is starting to change.  The fish have been on an almost all trout diet for most of the winter. But this past week that has started to change. They seem to prefer shad over trout 3-1, and even higher at times. Once the water temperature hits 55 degrees, I will be using shad 100% of the time.
I really think we are going to have an early spawn run this year. I think in the next ten days we will see the fish start migrating north and start staging on the flats and humps, getting ready to make the run up the river.
This will be a welcome sight for me because I am ready for spring.
First Bite Guide Services rejoined forces with Lowrance Electronics.  We are proud to say we have the Lowrance 12 Touch aboard Firstbite.  If you would like to see the Lowrance Touch in action aboard Firstbite you can view daily pictures and video on our Facebook page.  All you have to do is click here.  Please "Like" our site.
We still have a few opening for spring break. Give me a call and let's go fishing: 770 827-6282.  Contact me online at First Bite Guide Service.  My e-mail address is [email protected].