Lake Allatoona Fishing Report (6-12-13)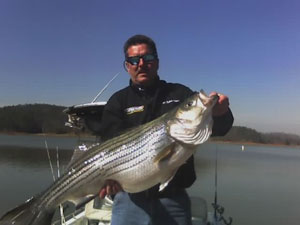 Robert Eidson's Lake Allatoona Fishing Guide Report is provided by First Bite Guide Service of Lake Allatoona.  When you're ready to catch stripers and hybrids, contact Robert at 770-827-6282 or by e-mail: [email protected].
Line-side fishing is Great.
The fish are in their summer pattern.  The bite that was so strong mid-lake is starting to slow down compared to last week.
The fish are starting to move off the flats and humps and are starting to school out over the river and creek channels.
This week we have caught fish as deep as 50 feet.  Down-lining live bait is your best bet right now.
Look for these big schools to start to move south as the water warms into the mid-80s.
Topwater:  Slow!!!!  There is limited topwater action right at sun up, but you have to be in the right place at the right time.  It really isn't worth targeting yet.
Trolling is fair at best, but should heat up in the upcoming weeks.
Contact Info
Phone: 770-827-6282
E-mail address: [email protected]
Website: First Bite Guide Service