Ginseng Harvest Season Starts Sept. 1st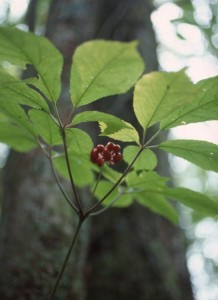 The Georgia law dealing with the beginning of ginseng harvest season has changed.  Although the ginseng harvest season used to begin on August 15, it has been changed to September 1st.
The majority of states that permit the harvest and sale of American Ginseng have also established a beginning harvest date of September 1st.
To improve consistency, reduce confusion and prevent potential illegal trade, the U.S. Fish and Wildlife Service urged all states to change the harvest season start date to September 1st.
In order to comply with the Fish and Wildlife Service's request, Georgia DNR passed the new law during the Georgia legislative session in the winter of 2013.
Georgia's ginseng harvest season is now September 1 – December 31.
Informational Meeting Scheduled
A meeting on the Georgia Ginseng Management Program is set for 9:30 AM until 12:30 PM on August 22, 2013, at Amicalola Falls State Park in Dawsonville.  The public is invited to attend.
The meeting will cover law changes, new ginseng research, Georgia's program and questions from the audience.
Speakers from 9:45-11:45
Dr. Jenny Cruse-Sanders, VP for Science & Conservation, Atlanta Botanical Garden.  Topic: Recent research on American Ginseng Biology
Lisa Kruse and Trina Morris, Biologists, GA DNR.  Topic: Overview of the Georgia Ginseng Program
Joanne Baggs, Forest Botanist/Ecologist, Chattahoochee-Oconee National Forest Service.  Topic:  Ginseng Harvest Permit System for the Chattahoochee-Oconee National Forest
Steve Seitz, Law Enforcement, GA DNR.  Topic: Georgia Ginseng Regulations
Directions to Amicalola Falls State Park
280 Amicalola Falls State Park Road, Dawsonville, GA  30534
Park phone number: 706-265-4703
Located 15 miles northwest of Dawsonville on Ga. Hwy. 52.
Take Hwy. 53 from Dawsonville west to Hwy. 183 north.
Continue to Hwy. 52 east.
Turn right.
Continue 1.5 miles on Hwy. 52 east to park entrance on Amicalola Falls State Park Road.
Entrance is on the left.