Lake Allatoona Fishing Report (8-15-13)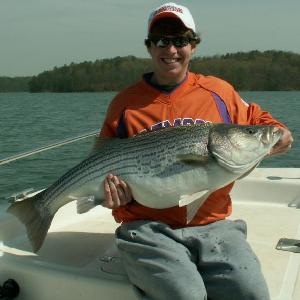 Robert Eidson's Lake Allatoona Fishing Guide Report is provided by First Bite Guide Service of Lake Allatoona.  When you're ready to catch stripers and hybrids, contact Robert at 770-827-6282 or by e-mail: [email protected].
Line-side fishing is fair.
The cold front we had pass through on Wednesday night gave the fish lockjaw.  This makes catching big numbers challenging.
The topwater bite was really taking off before the front and should pick back up in the next few days.
Live bait is still working best.
The trolling bite is really starting to heat up once the sun comes up.
This time of the year you need to be open minded when heading to the lake.  What worked yesterday may not work today.  I take everything but the kitchen sink with me when heading to the pond.  Topwater, Trolling, Live bait and spooning gear.
The fish are still scattered from Tanyard Creek to Kelloggs Creek.  Most of the fish we caught this week on u-rigs where caught by clipping points.  Most of the fish we caught this week on live bait were over the river and creek channels.
The topwater bite has been the best from Clear Creek to Kelloggs Creek.  When these fish do come up, they will eat almost anything.  They want the bait move fast.  Don't finesse the baits.  Just reel until you feel the rods load up.
Carters are still the place to be if you want to catch a big fish.  This week we have caught stripers up to 22 lbs. and Hybrids pushing 13 lbs.
I got word a couple of days ago that there will be a new bait store opening up near 411/136 that should be open by the end of October.  As soon as I have more details I will pass them along.
Let me take you and your friends fishing!  You'll have a blast.
Contact Info
Phone: 770-827-6282
E-mail address: [email protected]
Website: First Bite Guide Service