Tellus Science Museum Welcomes Princess Presto & Super Why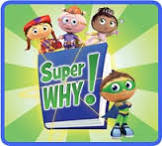 Let's just face it.  When it comes to the latest and greatest "in" thing that kids like, most of are dorks.
That's why Tellus Science Museum in Cartersville is so dang valuable to help us connect with our kids and grandkids.
If not for Tellus, how would we EVER know that we should take all the kids in our lives to meet Princess Presto and Super Why!
Note for Fellow Dorks: Super Why and Princess Presto are two of the stars of the hit GPB kids' show "Super Why!"
The fun takes place during SandFest at Tellus' Family Science Night on Friday November 22, 2013.
The museum will erupt with glee from 5-9 PM.
Members may attend for free.  The fee for this show is covered in the regular admission price for non-members.
The excitement doesn't stop there!  Your whole flock can learn a ton of stuff about the "uniqueness of sand" through a bunch of demonstrations and hands-on activities.
Kids get to create their own piece of sand art to take home, make a unique keychain out of colorful sand, and more.  Everyone can examine sand through a microscope.
New Tellus collectible trading cards will feature different types of sand from around the globe.
The observatory will be open from 5 PM until 10 PM and the planetarium will be playing, Molecularium, a show perfect for kids of all ages.
Members of the International Sand Collectors Society, the Georgia Mineral Society, National Nanotechnology Infrastructure Network and Georgia Tech will be helping out with the evening's activities and demonstrations.