Lake Allatoona Fishing Report (6-20-13)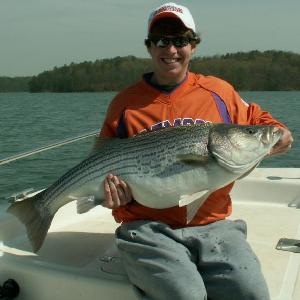 Robert Eidson's Lake Allatoona Fishing Guide Report is provided by First Bite Guide Service of Lake Allatoona.  When you're ready to catch stripers and hybrids, contact Robert at 770-827-6282 or by e-mail: [email protected].
Line-side fishing is Great!  The fish are in their summer pattern.  The big schools we were fishing mid-lake have moved south.
The down-line bite is in full swing and we are catching 90% of our fish out over the river channel near the dam.  The fish are really starting to school up and are on the move up and down in the water column. Some days we are getting them as shallow as 15 feet. Then, the next day they may be 50 feet deep.  Keep an eye on your Lowrance and more importantly trust what you are seeing.
Right now I am fishing from Bartow Carver to Clark's creek, but most of my numbers are coming within a mile of the dam.
Thread fin shad are my bait of choice, but others are doing well on both shiners and Gizzard shad.  The water is heating up fast. Shad will be very hard to keep alive on a hook come mid-July.  Make sure you carry plenty of bait with you and change it often.
Topwater is Fair.  There is limited topwater action right at sunup. But you have to be in the right place at the right time. It really isn't worth targeting yet.
Trolling is Decent !!! The trolling bite is really starting to pick up. We have been catching most of our fish on U-Rigs fished 120 feet behind the boat. Color really doesn't seem to matter, but boat speed does. I am having my best luck at 2.4 – 3.1 MPH.
Contact Info
Phone: 770-827-6282
E-mail address: [email protected]
Website: First Bite Guide Service