DOT Limits Road Work for Labor Day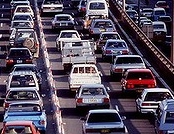 Our friends at GA's Department of Transportation (DOT) really mean it when they smile and say, "Hi! We're from the government and we're here to help you!"
All scheduled and ongoing construction and maintenance lane closures in Georgia will be suspended for the long Labor Day weekend.
Bayne Smith, DOT district engineer serving Northeast Georgia said, "We understand that a lot of people are hitting the road for the Labor Day holiday and we would like to make it a little easier."
No lane closures will be scheduled over the holiday weekend beginning at noon on Friday, August 30th through 5 AM on Tuesday, September 3, 2013.
The only exception would be for emergency maintenance work in the case of traffic accidents, and other unpredictable types of transportation incidents.
There is no official word on whether the usual morons will be dropping ladders on interstate highways over the holidays, as they do on weekdays; we're hoping they'll take the weekend off too.
Don't be in one of the many broken-down giant travel trailers with those itty-bitty tires over Labor Day.  Check out your RV before hitting the highway.
Georgia DOT urges travelers to call 511 for updated information about this maintenance operation or any other construction project on interstates and state routes. Georgia 511 is a free phone service that provides real-time traffic and travel information statewide, such as traffic conditions, incidents, lane closures, and delays due to inclement weather. Callers also can transfer to operators to request assistance or report incidents 24 hours a day, seven days a week. More information is available at www.511ga.org.
The Georgia Department of Transportation continues its RoadWorks construction program.  Dozens of important roadway improvement projects are ongoing throughout the state as we work to deliver projects on time and on budget while keeping our transportation network the nation's finest. Pardon the necessary inconvenience and please drive cautiously and safely at all times, especially in work zones.  For more information on Georgia DOT, please visit www.dot.ga.gov or subscribe to our Press Release RSS feed.  You also may follow us on Facebook (www.facebook.com/GeorgiaDOT) and Twitter (http://twitter.com/gadeptoftrans).