Construction Fun at Tellus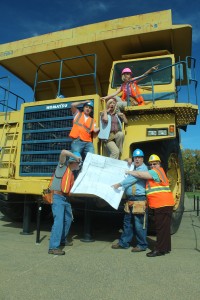 Forget pyramids, abstract art, that stupid picture of the soup can and dusty historical artifacts that kids cannot touch or throw at one another.  Tellus Science Museum knows what kids want!
Giant trucks and stuff they can climb on!
Take the family — even the Wild Ones — to Tellus for a night of fun on Family Science Night, Friday, February 8th, from 5 PM until 9 PM.
Kids are encouraged to build cool stuff and climb on the humongous mining and construction vehicles brought into the Great Hall just for this event.
While supplies last, all kids under 12 will be given special trading cards with pictures of the trucks and stuff.  These Tellus Trading Cards are only available at select events.
Take memorable pictures of your family with the Tellus Can Do Crew.  Then, stay for Tellus' most popular planetarium show: "Thrill Rides to the Max."
Family Science Night is also full of hands-on activities, such as:
Personalize your own construction hat.
Build a balloon-powered car.
Help build a giant ball maze in the Great Hall.
The Solar House will be open until 9 PM.  The observatory will be open until 10 PM with the telescope aimed at Jupiter and the constellation Orion.
Family Science Night activities are free for members and are included in regular admission for non-members.
Planetarium shows are $2 for members and $3.50 for non-members.