Four New Adventure Clubs from Georgia State Parks
In less time than it takes to figure out how to waste time watching television tonight, we could probably sign up for one or more of the four new Adventure Clubs from Georgia State Parks.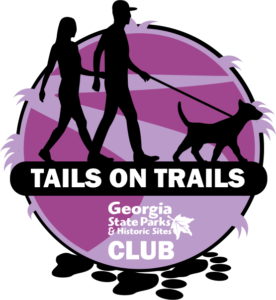 The four new Adventure Clubs from Georgia State Parks all have something for everyone — if you're actually willing to get off your sofa and <gasp> go outside.
Please Note:  Yes, it costs a few bucks.  No, you (probably) won't die a horrible death.  Yes, you will get a nifty T-shirt.  Yes, you will meet nice people who share your interests.  No, you don't have to talk to them.  Yes, you can probably leave early, if you chicken out.  (Unless you're halfway up or down a canyon wall.)
There's really no excuse to stay indoors all winter, spring or whenever.  These four new Adventure Clubs will be a ton of fun.  Join all four, if you can stand that much adventure.
Get out and explore … Take on these quests at your own pace; there's no time limit. You'll now get your club T-shirt when you join, so you can wear it while exploring.
The only hard part of the Tails on Trails Club is telling your best friend that you'd rather be with your dog as you romp a dozen trails in participating parks statewide.  Your pup will even get a bandana that matches your T-shirt.  (Yes, you can give it to you-know-who instead of your true best friend.)
---
Georgia's Canyon Climbers Club is reserved for folks who want scale to the top of Amicalola Falls, explore the depths of Providence Canyon, brave the bridge in Tallulah Gorge and face the staircase in Cloudland Canyon.  (In other words, you won't meet me on these treks.)
---
"Break out your bicycle, helmet and stain-busting laundry detergent.  Georgia State Park System's Muddy Spokes Club challenges mountain bikers and casual cyclists to ride 12 trails in participating parks."
---
Pick up your paddle to see Georgia's rivers, mill ponds and lakes.  Paddle your way into — and maybe out of — the celebrated Okefenokee Swamp.  Alligators provided at no extra cost!
The only thing you have to lose is a few pounds and reruns of Friends.  You'll survive.  Mostly.