Lake Allatoona Fishing Report For Aug 26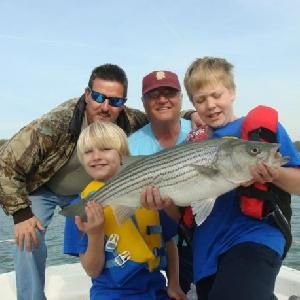 Linesides: Fair to Good depending what day your there.. The fish are still out over the river channel. An are schooling in depths for 20 – 40 feet deep. And trolling seems to be your best bet right now. Live bait will also catch you a few fish. Down line your bait over the river channels between 20 40 feet deep. Make sure you use long leaders 6-8 feet is what I"m using on Allatoona right  now.
Fresh bait is key, so carry plenty of threadfin or medium shiners, and make sure your hook matches the size of your bait.  White bass and  fishing is still the best bite on the lake. These fish are schooling on top from sun up to sun down.
Just ride until you find them. Mid-lake has been the best. A jr spook is working best for these little line-side. With the cools nights coming up fishing should really get good in the next couple of weeks.
This Lake Allatoona striper and hybrid report fishing report has been brought to you exclusively by Robert Eidson of First Bite Guide Service, 770 827-6282. www.firstbiteguideservice.com Lake Allatoona, Georgia email: [email protected].