Lake Allatoona Fishing Report (6-5-12)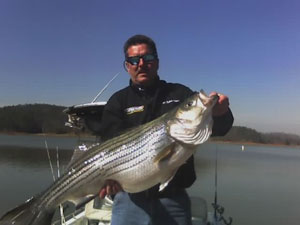 Robert Eidson's Lake Allatoona Fishing Guide Report is provided by First Bite Guide Service of Lake Allatoona.  When you're ready to catch stripers and hybrids, contact Robert at 770-827-6282 or by e-mail at [email protected]
Linesides: Excellent.
The bite is "super incredibly hot" right now on the north end of the lake for huge numbers of hybrids.  It's a summer bite that has already set up.  I have been doing nothing but fishing down-lines.
There are massive schools of hybrids stacked up right at the mouth of Little River and they are covering the whole area to the mouth of Gar Bay.  The fish are in 28 to 37 feet of water and they are sitting near the bottom.
Drop a threadfin or a shiner all the way to the bottom and give it a half-crank up.  This early bite has put more than 30 fish in the boat in just a few hours on recent trips.
In the evening, there are white bass mixed in with very small hybrids and stripers schooling on the surface from Little River to Fields Landing, and then from Victoria to Harbortown.  You can catch Tons of them with a Tiny Fluke or a Rooster Tail on 6-lb. test.  Downgrade to ultra-light gear.  It's a ball.
For bigger fish, the stripers have moved south to the main-lake humps and points from Stamp Creek to Bethany Bridge and from Iron Hill to Clark Creek on the Allatoona arm.
Keep an eye on your electronics.  They'll be in 28 to 42 feet of water following bait in the water column.  You can catch 5 to 10 in a trip on down-lined, dollar-bill-sized gizzards.
Look for those hybrid schools to move to Kellogg and Bartow Carver as dissolved-oxygen levels decrease, possibly by late June.
I was featured in May's Issue of Georgia Outdoor News!  Click Here for My Story on May Tactics on Lake Allatoona.
The fishing is great right now.  This is the best time of the year to introduce kids to fishing.  Give me a call at 770-827-6282 and book your family trip today with First Bite Guide Service.