Lake Allatoona Fishing Report (4-11-12)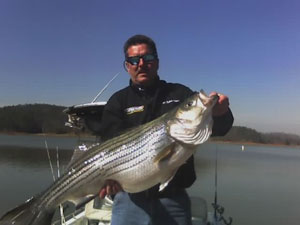 Robert Eidson's Lake Allatoona Fishing Guide Report is provided by First Bite Guide Service of Lake Allatoona.  When you're ready to catch stripers and hybrids, contact Robert at 770-827-6282 or by e-mail at [email protected]
Fishing is Excellent!
Stick with what I told you last week and you'll catch fish.  Change nothing.  (Click Here for Fishing Report from 4-4-12)
The river run is on!  The fish are also biting on the south end of the lake.
On the Etowah, fish have made it as high as the ballpark in Canton.  On Little River they are stacked up around Rope Mill.
Fish on the bottom with either live or cut shad or even chicken liver.  Keep a freeline'd shad ready on a spinning reel, in case you see any blow-ups.
The main-lake bite is also very good on the south end.  There are fish in Kellogg, Stamp, Iron Hill, Clark and Tanyard creeks.  We have also been catching a mixed bag of stripers and hybrids on flatlines and planer boards with live shad.
Don't miss the action!  Come catch some fish with First Bite Guide Service.  Give us a call at 770-827-6282.