Wake Jumping on Lake Allatoona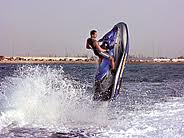 Here's a pop quiz on boating safety!
[Hint: The answer is "no."]
"It is OK to jump the wake of another boat when you are less than 100 feet away or to use your personal watercraft to splash someone sitting on a dock on Lake Allatoona, right?"
Sorry, Popeye, it is not okay and both situations are illegal. If you thought otherwise, you need to review the boating "rules of the road."  Incidents can happen quickly and the chance of one occurring greatly increases if boat operators are either unfamiliar with or fail to follow the existing boating laws that govern lakes and rivers.
"Boat operators do not need a license to operate a boat, and people over the age of 16 are not required by law to take a test to operate a vessel," says DNR Lt. Col. Jeff Weaver, assistant chief of Law Enforcement. "Therefore, it is extremely important for boat operators to take responsibility for educating themselves on boating safety and boating laws. Making an effort to learn boating laws can potentially save a life."
One of the most important "rules of the road" is the '100-foot law,' which includes all boats, not just personal watercrafts (such as Jet Skis or Sea Doos), and requires boat operators to slow to idle speed when they are within 100 feet of docks, piers, bridges, shorelines or people in the water.
The 100-foot law makes it illegal to jump the wake of another boat within 100 feet and to "buzz" other boats. In addition, it prohibits vessels from operating around or within 100 feet of another vessel faster than idle speed unless it is overtaking or meeting the other vessel in compliance with the rules of the road for boat operation. The law also makes it illegal for boat operators to follow closely behind another vessel, jump the wake of another vessel, or change or reverse their course of direction in order to ride or jump in the wake of another vessel.
"People who operate boats and personal watercraft at dangerously high speeds, and zip into and out of coves and along shorelines where other vessels are anchored or where people are in the water, are not only putting themselves and others at risk for serious accidents, they are also breaking the law," Weaver explains.