Lake Allatoona Fishing Report (5-23-12)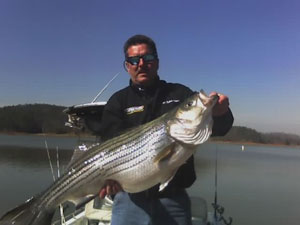 Robert Eidson's Lake Allatoona Fishing Guide Report is provided by First Bite Guide Service of Lake Allatoona.  When you're ready to catch stripers and hybrids, contact Robert at 770-827-6282 or by e-mail at [email protected]
Line side fishing: Great!!
The summer bite is almost in full swing and the bite is great.  All the major creeks are producing good numbers of fish right now.  The down-line bite at the mouth of Little River is probably the best Hybrid bite on the lake right now.
If you're looking for stripers then you need to be on the south end of the lake.  The bite isn't anywhere near as good as the bite on the north end, but the striper bite is better.  Look for these fish to be on any main lake point between the dam and the bridge at Red Top, and between Iron Hill and Clark Creek.  Down-lining Big Thread-Fin's and dollar-bill-size Gizzard shad is your best bet for a bigger fish.
If you're after numbers then you better head north.  Right now my clients are catching between 20-50 fish on a half-day trip.  Kinda hard to leave numbers like that to chase 2-4 fish that may be between 8-12 lbs. on the south end.
Fish are scattered in the water column anywhere from 12-50 feet deep right now.  Trust your electronics.  If you are marking fish at 50 feet, go get them.
Trolling is working great with the Mack Farr umbrella rig.  The key to trolling right now is not starting too early.  The rig bite is better after the sun comes up and may be your best bet for getting bit midday.
Topwater action is good early in the morning and late in the afternoon.  Use a Sammy 110 and catch the hybrids, stripers and schooling spots.
I was featured in May's Issue of Georgia Outdoor News!  Click Here for My Story on May Tactics on Lake Allatoona.
The fishing is great right now.  This is the best time of the year to introduce kids to fishing.  Give me a call at 770 827-6282 and book your family trip today with First Bite Guide Service.