Lake Allatoona Weekend Weather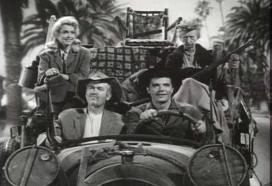 I'm a romantic … living in the days of Opie, Lucy and Jed Clampett.  Call me crazy, but I still believe in honesty, courtesy and long-range weather forecasts.
If you and the family are fixin' to head to Lake Allatoona this weekend, you'll want to know if it's going to rain.
The Weather Channel (TWC) has you covered, bubba, with a weather forecast specifically tuned for Lake Allatoona.  It's a fancy sucker too.
Shows humidity, sunrise, sunset, chance of rain and all that, but TWC has an option that even Jethro couldn't of dreamed up.
Just click here, enter a nearby zip code, and TWC will send you a personal message if rain — or a tornado — is headed your way.   A good zip code for Lake Allatoona is 30102.
Sorry, it won't make up for Dagmar Midcap leaving town, but it might save your picnic … or your life.