Lake Allatoona Fishing Report (10-24-12)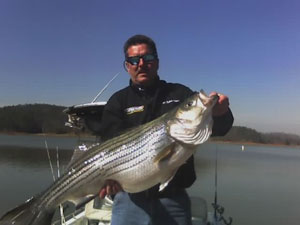 Robert Eidson's Lake Allatoona Fishing Guide Report is provided by First Bite Guide Service of Lake Allatoona.  When you're ready to catch stripers and hybrids, contact Robert at 770-827-6282 or by e-mail at [email protected]
Line-side fishing is Fair … but getting better with each passing day.
The live-bait bite is still slow but should start to improve as we move into November.  We are still catching decent numbers of white bass with a few Flatheads on jigging spoons.  This might be the most consistent bite on the lake right now.
Trolling: The umbrella-rig bite is your best overall bet if you're looking for Hybrids and Stripers.  Look for these fish to be on the smaller size.  This week I have been pulling my rigs 75-80' behind the boat on a 16-20' bottom.  These fish are on the move. So make sure you cover a lot of water.  I have caught fish as far north as the S-turns this week and all the way south to the dam.
Topwater bite: DEAD.  I have seen very limited topwater action this week.  Most of it seems to be spotted bass.  I look for the topwater bite to pick up after the lake finishes turning over.
I still have open days for November.  It's the prettiest time of the year to catch some fish.  Give me a call at 770-827-6282 for availability or book your trip online at First Bite Guide Service.