The Science of Fireworks at Tellus Museum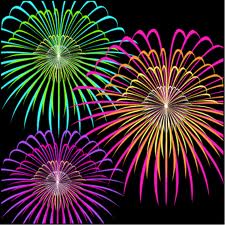 Historians are not normally thought of as funny (as in "ha-ha") people.  But they know some pretty clever stuff.  For example:
•  Why was Washington not born on Washington's Birthday?
•  Why did the century begin in 2001, not 2000?
•  Did the pope actually rule ten days out of existence?
•  Why won't the year 2100 be a leap year?
•  Why would anyone buy a car as ugly as the Pontiac Aztek?
Learn the answers to many of these questions as Tellus Lunch and Learn presents a lively discussion with astronomer David Dundee — a smart, witty and funny guy — on Wednesday, June 27th.  The fun takes place at Cartersville's Tellus Museum in the private dining room from 12 to 1 PM.  The lecture begins at 12:15.
No outside food is allowed, but you are welcome to buy lunch in the Café and bring it into the lecture.
All Lunch and Learns are free for members and included in regular admission for non-members.
At 7 PM, Friday, June 29th, Bob Gossman "lights up" the Tellus stage and describes the science and chemistry behind the colors of fireworks. A very active volunteer at Tellus, Bob is a senior program manager for the Institute of Nuclear Power Operations (INPO) in Atlanta, Georgia and a former high school chemistry and physics teacher. He loves to share his passion for science and there is no flashier way than this talk just before the 4th of July!
All lectures are free for members and included in regular admission for non-members.  Galleries will remain open until 9 PM.
Contact Information
Location: I-75 at Exit 293 in Cartersville, Georgia
Address: 100 Tellus Museum Drive, White, Georgia 30184
Phone: 770-606-5700