Update: Lake Allatoona is Open for Business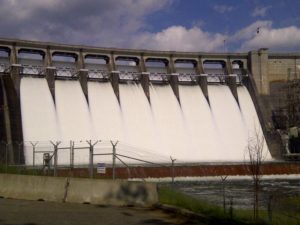 The future for Lake Allatoona is sunny and bright.
One of the chilliest spring seasons on record in many areas and rainfall that caused flooding, damage and many closures seem to be over.  For now.
According to the US Army Corps of Engineers, the lake (as of 5-15-2013) is about 4.5 feet above full pool.
The high water has receded enough to allow for the reopening of all campsites at McKinney and Victoria Campgrounds.
The beaches are still underwater, but the ramps and beach areas at Galt's Ferry and Victoria Day Use Areas are also back open.
Update
As of 3:40 PM, 5-15-13:
Clark Creek South, Knox Bridge and Old Hwy 41 #1 ramps have reopened
The beach at 41 #1 will remained closed.
All sites — except site 31 — at McKaskey Campground have reopened.
All but four sites at Payne Campground have also reopened.  These areas remain closed: Tanyard Creek and Cooper Branch #1 ramps; Sweetwater Day Use Area, and the majority of sites at Sweetwater Campground.
One thing never changes: everything changes.
The water went up.  The water is going down.  It's all part of life.
We can all be thankful that we can begin to enjoy summer on Lake Allatoona … unless something changes.