Trail Running in GA State Parks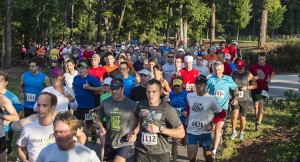 Trail running through several state parks in Georgia is being organized and sponsored by Dirty Spokes Productions.
If you are one of the roughly 27 people who were able to follow the action and/or story line in The Bourne Legacy, the link between running and "dirty spokes" probably makes perfect sense to you.
The Dirty Spokes folks want you to explore the trails at four of Georgia's most dandy state parks, while earning points for awards.
Registration fees range from $25 to $45 and include:
Chip timing
"Dry-fit" shirts
post-race recovery drinks (only those from Klatu and Gort would help me recover)
and fruit (not fed to you by handsomely rugged dudes or beauty queens).
Competitors will race along some of Georgia's most scenic trails, enjoying lakes, mountains and streams in four state parks in North Georgia:
Racers and spectators may want to stay overnight in the park cabins, lodges, yurts or campsites.  For reservations, visit www.GeorgiaStateParks.org.