Weather for the 4th of July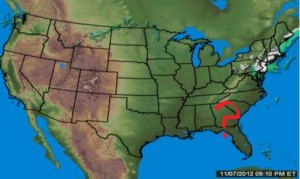 For more years than I can remember, I worked on the radio.  I read weather forecasts all day long.
One lesson remains from those days: Weather forecasts are educated guesses.
Many times it rained when the forecast said it would not.  Other times rain was predicted and it didn't rain.
You cannot plan your life around what the weather might be three or four days from now, but you can use the information to be prepared for what might happen.
This "Special Weather Statement" was delivered at 1:26 PM on July 1, 2013 for areas around Lake Allatoona:
FLASH FLOOD WATCH IN EFFECT FROM WEDNESDAY MORNING THROUGH FRIDAY MORNING…

THE NATIONAL WEATHER SERVICE IN PEACHTREE CITY HAS ISSUED A

* FLASH FLOOD WATCH FOR PORTIONS OF NORTH CENTRAL GEORGIA… NORTHEAST GEORGIA AND NORTHWEST GEORGIA.

* FROM WEDNESDAY MORNING THROUGH FRIDAY MORNING

* AN UNUSUAL WEATHER PATTERN FOR THE SUMMER WILL BRING COPIOUS AMOUNTS OF MOISTURE TO GEORGIA THIS WEEK. AN UPPER LEVEL TROUGH IS EXPECTED TO SHIFT WEST DURING THE WEEK AND WITH IT… AN AXIS OF STEADY RAIN AND THUNDERSTORMS.

* RAINFALL AMOUNTS OF 2 TO 4 INCHES ARE LIKELY OVER THE WATCH AREA… WITH LOCALIZED HIGHER AMOUNTS POSSIBLE. PORTIONS OF NORTH GEORGIA ARE PRIMED FOR FLASH FLOODING… ESPECIALLY IN AREAS OF STEEPER TERRAIN.

PRECAUTIONARY/PREPAREDNESS ACTIONS…

A FLASH FLOOD WATCH MEANS THAT CONDITIONS MAY DEVELOP THAT LEAD TO FLASH FLOODING. FLASH FLOODING IS A VERY DANGEROUS SITUATION.

YOU SHOULD MONITOR LATER FORECASTS AND BE PREPARED TO TAKE ACTION SHOULD FLASH FLOOD WARNINGS BE ISSUED.
What does this mean?  It might rain on the 4th of July.  It might not.
We simply wanted you to know the rather long-term forecast.
Do not abandon your plans.  Just plan accordingly.
Have a great Independence Day!